When I tried to make a Max patcher for a show which had a large text element to it - creating sentences on the fly with dynamic content, I really struggled. These kind of procedural problems are much more easily and powerfully solved in text based languages. Cue the JS object.
---
This week, Cycling '74 checks out a new kind of Jazz trio, reports on Moogfest 2016, and has some MIDI-editing fun.
---
From now until June 7th, you can get 30% off *
new copies of Max 7
crossgrades to Max 7 (for owners of Live 9 Suite or Max for Live)
Max 7 upgrades
the annual subscription (first-time buyers for the first year only)
Ableton, our Max for Live partners, are also having a sale.
---
Last week I flew out to Durham, NC to attend and perform at Moogfest 2016. I knew I was in for a special week when I got to the gate at LAX and saw a large cluster of modular cases and smiling people all gathered together.
---
It's always interesting to stumble upon something novel. Allow me to introduce you to a group of people who've gotten me thinking. Tin Men and the Telephone - a trio composed of Bobby Petrov on drums, Pat Cleaver on Bass, and Tony Roe on piano and electronics.
---
This week, Cycling '74 adds Max for Live to your life, interviews a shred-loving friend, and gets your sounds moving.
---
One of the ways that Max makes your life easier is the ability to host and control VST/Audio Units plug-ins and softsynths.
---
This week, Cycling '74 visits the Exploratorium, points to new graphics tutorials, and makes a kettledrum synthesizer.
---
We are very excited today to announce our industry partnership with Kadenze, an arts & creative technology-focused MOOC (Massive Online Open Course) platform.
---
This week, Cycling '74 wraps up the patch-of-the-day series, reviews a colorful book, and explores the 1000+ projects.
---
This week, Cycling '74 starts a patch-a-day series, points to a cache of patch downloads, and catches a softsynth bug.
---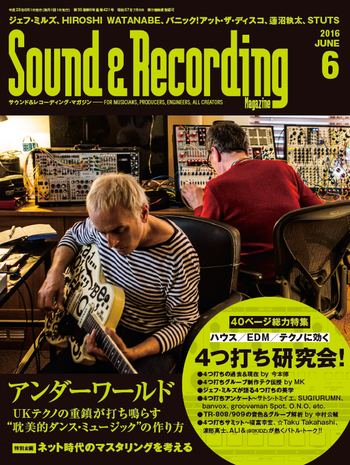 One of the annual high points in my Cycling '74 trade show life back in the day was the visit from our Japanese colleagues and distributors at MI7.
---
This week, Cycling '74 makes some noise with Cory Metcalf and finds two goldmines for visuals in Max.
---
Max nuggets of knowledge are popping up on these active pages daily, don't be afraid to get over there and join in the fun, they aren't just for Nurbs!
---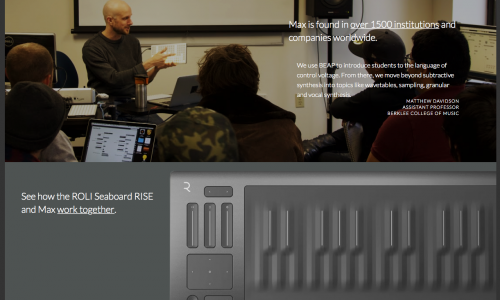 Over the years, I've been impressed with the Max community's dedication to learning and exploring. It's pretty rare to hear a Max user say: "Yeah, I'm done now. Nothing new to learn here." It's more like: "What patch can I download next? How did you do that?" In recognition of this, we have made some changes to our website.
---
This week, Cycling '74 releases an update to Max, suggests objects for stretching, and seeks out good answers.
---
One of the cool features added to Max 7.2.2 is the ability to inform us - and other users - about the value of a package.
---
Sometimes a project produces great results, and sometimes it helps you create better work of your own.
---
Last week, Gregory reviewed Curtis Roads' Microsound, so it's only fitting that this week we've added Nathan Wolek's LowkeyNW package to the Max Package Manager.
---