One of the ways that Max makes your life easier is the ability to host and control VST/Audio Units plug-ins and softsynths.
---
This week, Cycling '74 visits the Exploratorium, points to new graphics tutorials, and makes a kettledrum synthesizer.
---
We are very excited today to announce our industry partnership with Kadenze, an arts & creative technology-focused MOOC (Massive Online Open Course) platform.
---
This week, Cycling '74 wraps up the patch-of-the-day series, reviews a colorful book, and explores the 1000+ projects.
---
This week, Cycling '74 starts a patch-a-day series, points to a cache of patch downloads, and catches a softsynth bug.
---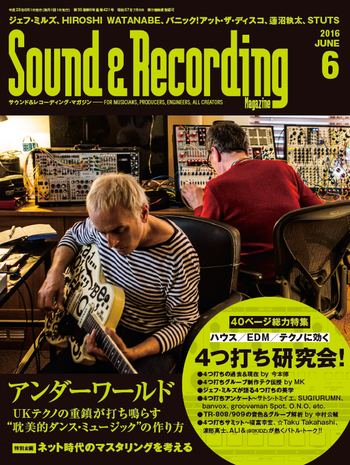 One of the annual high points in my Cycling '74 trade show life back in the day was the visit from our Japanese colleagues and distributors at MI7.
---
This week, Cycling '74 makes some noise with Cory Metcalf and finds two goldmines for visuals in Max.
---
Max nuggets of knowledge are popping up on these active pages daily, don't be afraid to get over there and join in the fun, they aren't just for Nurbs!
---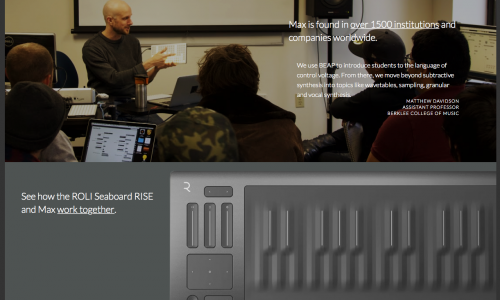 Over the years, I've been impressed with the Max community's dedication to learning and exploring. It's pretty rare to hear a Max user say: "Yeah, I'm done now. Nothing new to learn here." It's more like: "What patch can I download next? How did you do that?" In recognition of this, we have made some changes to our website.
---
This week, Cycling '74 releases an update to Max, suggests objects for stretching, and seeks out good answers.
---
One of the cool features added to Max 7.2.2 is the ability to inform us - and other users - about the value of a package.
---
Sometimes a project produces great results, and sometimes it helps you create better work of your own.
---
Last week, Gregory reviewed Curtis Roads' Microsound, so it's only fitting that this week we've added Nathan Wolek's LowkeyNW package to the Max Package Manager.
---
One of the groups that has always enthusiastic about Max is the Monome community. After years of gathering on the monome.org forum, Brian Crabtree started a new site called "lines".
---
This week, Cycling '74 adds BEAP to Vizzie, talks to our resident video puppeteer, and offers a project snapshots hint.
---
This week, Cycling '74 takes you on a waveshaping tour, follows community discussion, and experiments in Chrome.
---
This question in Facebook land was recently asked, "Why Gen~ ? Is it magical?" While not magical, it won't do the dishes for you but it might help you get the dishes done faster if you catch my drift. The community answered with some really good points I'd like to highlight.
---
This week, Cycling '74 releases a new Package, talks to its creator, and revisits some key Max for Live tutorials.
---
It's easy to get hung up thinking about advanced ways to make sounds and effects, but often it's the gesture and the way that sounds change over time that creates the most interesting effect.
---
This week, Cycling '74 walks you through advanced filter design, reviews a history book and two standalone apps.
---