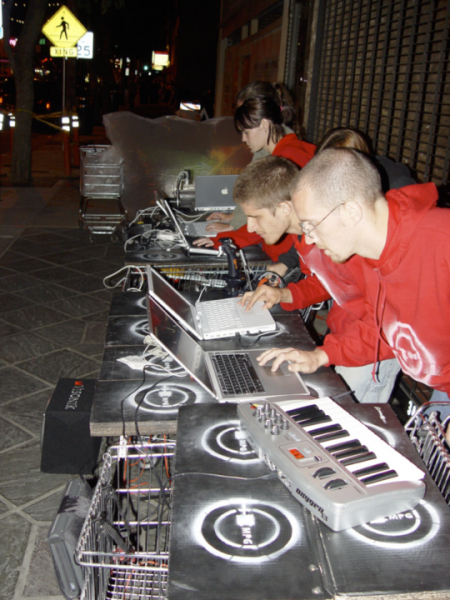 Nathan Wolek is an audio artist and researcher as well as Associate Professor of Digital Arts and Chair of the Creative Arts Department at Stetson University in DeLand, FL.
---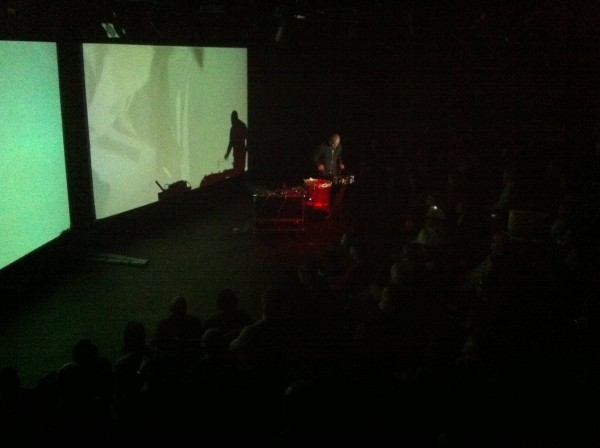 Cory sits down with Andrew whose current work focuses on the emergent potential between cross-disciplinary arts and technology, building sound and visual environments through software development, and building scientifically accurate representations of complex data sets as visual and sound compositions.
---
Gustavo Bravetti first showed up on my radar a number of years ago - 2008 or 2009, maybe? - while I was breezing through my latest tech gadget blogs over my morning coffee.
---
David talks about his company, their projects and approaches. "Every project we've worked on has been different, from design to programming to sensing to the underlying infrastructure."
---
Modern music journalism tends to focus on one aspect of an artist's output, often in the form of a review of an album or a show. I've been increasingly interested in thinking about the creative process as a continuum, rather than just the results.
---
The place where Jeff Kaiser started out isn't nearly as interesting as where he's going, and where he's tarried along the way; Classically trained as a trumpet player (and the owner of one sweet quarter-tone horn, by the way) his "instrument" is now a hybridized and extended beast with Max/MSP as the coiled mainspring of the non-human portion.
---
Cory Metcalf sits down for a low-noise chat about his work with the interactive media collective NoiseFold; their birth in adversity, their approach to crafting intermedia works on the stage and elsewhere out there, and their tools. There is a lot of wisdom hidden in the folds of his answers.
---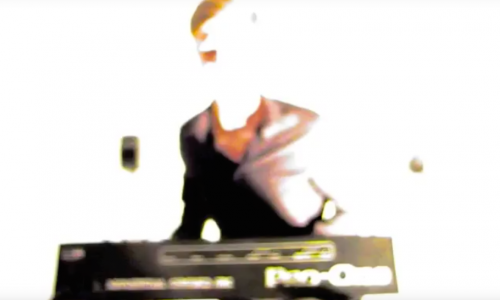 I first ran across Christopher Jakobi when when he posted a video of his piece Aurora Drone early last fall on the Forum (you can download the Max patch for it here).
---
Hi Rob! Can you tell us a little about what you do at Cycling '74?
I primarily work on Jitter development and support.
---
I first ran into Antye Greie-Ripatti's work as a part of the duo Laub, and have followed her career since then in its many and varied forms - her solo work as AGF (I'm personally particularly drawn to her Source Voice release on the LINE label), the AGF/DELAY duo with her partner Vladislav Delay, and other collaborations with Zavoloka, the trio The Dolls (with Vladislav Delay and Craig Armstrong), and - more recently, as part of The Lappetites (with Eliane Radigue, Kaffe Matthews, and Ryoko Kuwajima).
---
When we do interviews with artists, we often stick kind of close to "the work", with a little biography thrown in for good measure (since it presumably helps to define the work).
---
Ben, could you tell everyone what you do at Cycling '74?
As most employees do at C74, I wear a number of hats.
---

One of the great things about hanging around the Cycling '74 campfire is the great group of artists and musicians that are found there.
---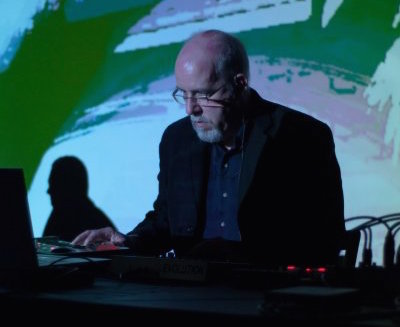 What do you do at Cycling '74? My business card currently includes the lines "Education R&D" and "Content Creation," although I would personally favor "Utility Outfielder," provided that the term is something that would be understood outside of the world of baseball fans.
---
Throughout her career, artist Lisa Park has investigated the relationship between emotional states and the subconscious.
---
Formally trained and practicing as an architect, artist Filipa Valente forges beyond the expected precincts of surface, space, and form, creating immersive installations where the observer and perception serve as integral elements.
---
When I first saw videos of Bruno Zamborlin's Mogees project, I thought "cool, someone has made an app for that old contact-mic trick."  I've seen plenty of performances done with contact mics and drummers have been trigger-progressing sequencer patterns from pads since the 80's.
---
Jan-Bas Bollen is a composer, bass player, programmer and educator.
What got you started?
It is hard for me to trace the beginnings of my fascination with music, since both my parents were professional musicians.
---