Sonic Views are images generated by ambient sounds. To each value of the waveform's amplitude is associated a color ranging from black to white. Each color is then applied to a squared cell in a matrix, creating a picture where the ambient recording can be explored at its most granular level, but where sound is left to the spectator to imagine.
---
SUCKERPUNCH is a drum synthesizer created in MAX 7.
---
SOLID STATE is an audio-visual installation, which deals with the rave experience and transcendence. The room is transformed through the use of light, fog and surround sound into a multi-sensory hallucinative and ecstatic state.
---
g.Seq.r is a 16 step sequencer which allows you to experiment with rhythmic variation by leveraging the power of a genetic algorithm to 'evolve' new and unexpected patterns from a target.
---
"Back, and Feed" is a project created entirely using Max.
---
In the Gravity Daze with an unusual attractiveness constructed by a dark space and white particles, the galaxy and the sounds could be manipulated in a poetic way to present in the scheme of the universe.
---
e-String is an homebuilt string instrument.
---
DSX Hack lets you program your Oberheim DSX sequencer without the need for a connected Oberheim synth, a previous limitation.
---
The TSAM is tool for the analysis, modeling, and mapping of the timbre of sound synthesizers. Synthesis algorithms often have a large number of adjustable parameters that determine the generated sound and its psychoacoustic features.
---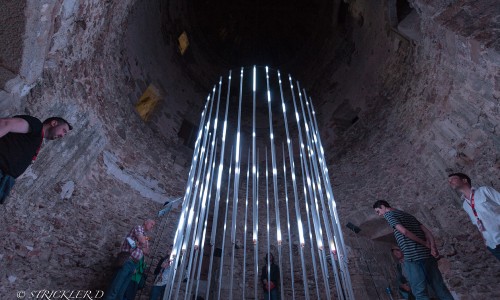 Circularium is the last work by Derrick Giscloux produced by Creative Art Company, Lyon (FR) Sound composition, sound spatialization, light control, interactivity made with Max 7 Circularium is a kinetic and interactive work of 4 meters high whose architecture is based on the circle and the concept of circular light.
---
The Shreditor is a software editor for the Shruthi-1 DIY hardware synthesizer. An awesome little hybrid mono synth developed by Mutable Instruments, which combines 8-bit oscillators with various analog filter boards.
---
117934~ is an experiment to extract new sounds from a classical upright piano via sound manipulation.
---
Instruments from the Augmented Gamelan ensemble presented as an interactive installation, using rule-based part generation, synthesis, and light control in Max.
---
Δ∞ [Infinite Delta] is an interactive kinetic installation/performance.
---
Film has became a common art form, and watching movies is already a kind of recreational activity what is very familiar to people.
---
This piece, a collaboration between Dr. Liza Seigido & Dr. Lawrence Moore, is built on the Moog Werkstat and a simple interactive video overlay constructed in Max!
---
DP.HouseHat is a versatile, dynamic and easy-to-use hi-hat synth, fully developed with Max for Live.
---
Sound Cage is a mechatronic percussion instrument.
---
RIB CAGE is an electro-acoustic instrument that incorporates elements of robotics.
---
The Melotronica is a modified melodica with sensors mounted on and inside the body of the instrument.
---