The robot can draw your face but does it make that an artist? Sit on the bench and put on the cord, so that you give the robot the start signal.
---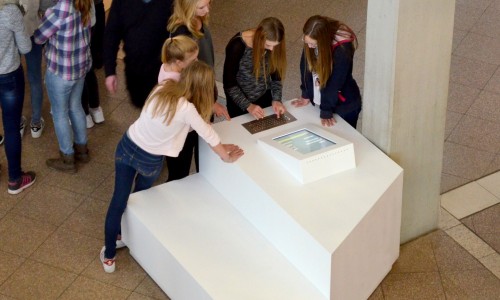 Please write a message, but who will answer you? Another visitor of the exhibition or our chatbox robot? Can you tell the difference? The installation consist of two chatbox stations placed in different exhibition spaces, the stations can communicate with each other or through a computer bot.
---
For the Spinrag festival in Kortrijk Rnul created a video installation for children.
---
Even in times of modern warfare, personal security is a subject of each personality.
---
This little additive synth project is aimed at incorporating rhythmic beating based on the same whole number ratios used to derive the overtone series used to create the timbre.
---
PYSY is a Audio and Visual performance set with Max. Converts physics engine controlled parameter to 3D visuals and synth generator in realtime. For generating complex behavior of sounds by physical simulated movements.
---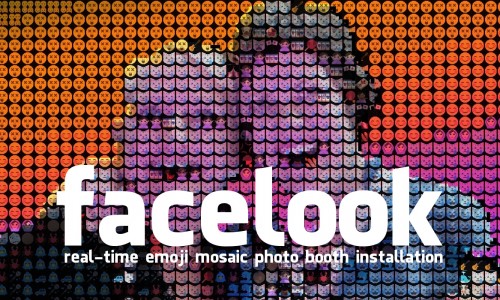 This installation acted as a photo-booth that turned people into a mosaic of emojis in real-time, and allowed them to capture images to be emailed to them; while at night, it was projected onto the building.
---
In this project I've used piezoelectric sensors up on the instruments, audio to midi converters, envelope followers, OSC sender for cross platform controlling Resolume Arena and DMX lighting by Ableton Live, various audio effects for the processed saxophone sound.
---
Music_SDP is a Digital Audio Performance Environment; a system designed around the creation and manipulation of audio in a real-time, replacing the two-dimensional sequencer of the standard Digital Audio Workstation with a non-linear, performance-focused work environment.
---
We used Max to create shapes in water and sand plates as well as shaking objects to animate them. Interview about *LLND and Sacred Geometry in their latest performance titled Cosmic Resonance.
---
Heart Beat Harmony is a 3-dimensional interactive LED sculpture for 12 simultaneous users interacting with heartbeat sensors .
---
This experiment takes in webcam image and turns it into a 3D mesh (see my Selfie Sunday 001 tutorial for a full video guide on achieving this). Everything is automated via the "loudness" value from the audio input system. The Frame Buffer Glitching stores the last 40 frames of webcam, and only plays them back when the loudness reaches a threshold.
---
MelloToneGen is a generative ambient music and noise machine application for OS X. Built with Max/MSP, it runs as a native Mac application, and creates soothing, meditative soundscapes, using sounds of nature recorded in the Pacific Northwest, along with algorithmically-generated synthetic tones. You can choose from multiple soundscape themes, created from layers of original field recordings.
---
Koka's MacBook Bow is an optical sensor, which extends a laptop into a bowed musical instrument.
---
"Die Hamletmaschine" is a performance for voice and live-electronics.
---
This algorithm focuses on when to generate notes, based on analyses of syncopation and repetition within Live MIDI clips.
---
M4L GRANULAR is a better and more simple polyphonic granular synthesiser for Ableton Live.
---
The Practice Room uses Max to facilitate rehearsing or performing electroacoustic music for instrument & tape.
---
Inspired by the Granular Synthesis work Modell 5, In Triplicate is a performance exploration utilizing audio-visual sampling.
---
just a tiny, fun (+ annoying) illustration of an idea i recently had, realised in max.
---