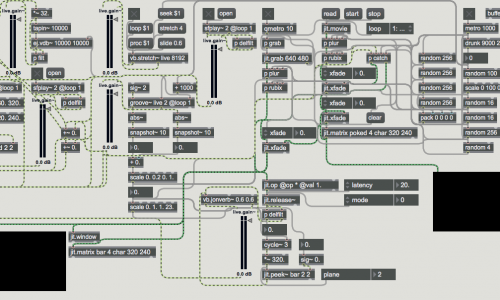 Here is a messy patch of the Live-Coding I did at the Mandurah Stretch Festival on Saturday the 2nd of May 2015.
---
Created an interactive environment for participants to explore using their body as the controller for a fully immersive experience.
---
SIPA is a Stereoscopic Internal Projection Apparatus.
---
Umbra is an interactive dance performance that uses Max/Msp and Jitter along with a webcam to track the dancers movement which is manipulated with Jitter in real time.
---
Compositor Software solution to an artificial intelligence problem lies well beyond a conventional modelling of neural networks and uses time-and-space relationships of real-time digital signal processing.
---
TEXT TONE is an interactive mobile phone based sound sculpture created out of broken and obsolete telephone technology.
---
Fragmente der Schweiz is an installation created for the Swiss consulate and Swissnex in Rio de Janiero.
---
In our settled, common world the object is solid, unique and can only exist in one place at a time.
---
These animations of a speaker cone were drawn from real-time sound, playing sound in from Yofiel's BEAP waveset oscillator.
---
Love Has No Labels is an ad campaign by the Ad Council which addresses our inherent internal biases, diversity, inclusion, and love across classifications.
---
Tobias Rosenberger (Video) Patrick Zosso (Music) (3d-model of Lazy Sheep: Samantha Rogers) part of: Whiter Room Begehbare Installation realized during a 6-week residency at Fleetstreet Theater Hamburg, supported by Fleetstreet e.
---
"The Conductor's Philosophy" – is an audio-visual work composed by Damian T.
---