The core is a slitscan machine (thanks to Rob Ramirez for his help, in 2013...) I have been playing around with it since a couple of years and finally made it to the point of presenting it as an installation.
---
BeatLines 2 is a sample based step sequencer. Redesigned GUI | New DSP beat engine | New features.
Features:
Dynamically created beat lines - Create up to 32 beat lines.
New mixer interface.
---
The International Transducer Orchestra is a project initiated By Koka Nikoladze, Bernt Isak Wærstad and Amund Ulvestad.
---
Max 7 is the middle man between OSC (UDP) messages from an Arduino Uno and Ableton Live.
---
I created a patch that reads the Wii XYZ values, sent them over to Jit.LCD to draw with the values.
---
It's possible to create musical sequences just moving one hand? I tried with this "work in progress" project. This is an early stage of the patches but I tried to do a little demonstration. There are many musical ideas behind each patch, starting from Theremin-like reading of acoustic samples going through more "conductor" style response of several multilayered track. More infos and developments coming soon.
---
Rose Engine is a piece of software for non objective filmmaking.
---
Pipilan is a program developed in Max for composing with gamelan and electronics (more information and downloadable version here).
---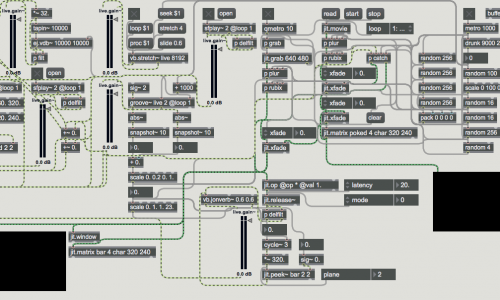 Here is a messy patch of the Live-Coding I did at the Mandurah Stretch Festival on Saturday the 2nd of May 2015.
---
Created an interactive environment for participants to explore using their body as the controller for a fully immersive experience.
---
SIPA is a Stereoscopic Internal Projection Apparatus.
---
Umbra is an interactive dance performance that uses Max/Msp and Jitter along with a webcam to track the dancers movement which is manipulated with Jitter in real time.
---
Compositor Software solution to an artificial intelligence problem lies well beyond a conventional modelling of neural networks and uses time-and-space relationships of real-time digital signal processing.
---
TEXT TONE is an interactive mobile phone based sound sculpture created out of broken and obsolete telephone technology.
---
Fragmente der Schweiz is an installation created for the Swiss consulate and Swissnex in Rio de Janiero.
---
In our settled, common world the object is solid, unique and can only exist in one place at a time.
---