Wish Key Signatures could be synchronized between applications? They can! Heres a logically ordered list of all possible note combinations within 12TET with assigned OSC values. Theres room to include scales beyond 12TET, but at the moment it is centered around that particular temperament. In thinking of other temperaments, we are considering floating point values between the current integers, or extending the list to be much longer. Download the Docs: http://automusician.com/keylink.html Join the discussion: https://groups.google.com/forum/#!forum/keylink
---
Having a couple lists of general midi compatible chromatic presets (each 128 long [one in Kontakt, one in FM8]) has been incredibly useful for me when I want to jump straight into composition and not think too hard about choosing an instrument. I've also been able to use it successfully with old auto accompaniment keyboards and other multitrack sequencers, and get a selection of patches that are a pretty good fit to what the intended sound should be. I've not yet posted my max patches to handle the program changes because they are sub-optimal, but if you'd like to join the discussion and collaborate on development of devices, the folder structures, and preset lists, please join the google group https://groups.google.com/forum/#!forum/the-bsp-initiative
---
We Are Fine, We'll Be Fine is an audio documentary played on a wooden game board exploring people's stories about marginalization, oppression, and the navigating hope for the future.
---
InMuSIC is an Interactive Musical System designed for electroacoustic improvisation (clarinet and live electronics).
---
The vArisPeed patch is a tool for designing and performing realtime, random compositions from audio loop samples played at varying speeds typically between 0.01 and 0.99 of normal speed.
---
SASER SAS24P3L is a software defined radio (SDR) telescope without an antenna need.
---
Sonic Views are images generated by ambient sounds. To each value of the waveform's amplitude is associated a color ranging from black to white. Each color is then applied to a squared cell in a matrix, creating a picture where the ambient recording can be explored at its most granular level, but where sound is left to the spectator to imagine.
---
SUCKERPUNCH is a drum synthesizer created in MAX 7.
---
SOLID STATE is an audio-visual installation, which deals with the rave experience and transcendence. The room is transformed through the use of light, fog and surround sound into a multi-sensory hallucinative and ecstatic state.
---
g.Seq.r is a 16 step sequencer which allows you to experiment with rhythmic variation by leveraging the power of a genetic algorithm to 'evolve' new and unexpected patterns from a target.
---
"Back, and Feed" is a project created entirely using Max.
---
In the Gravity Daze with an unusual attractiveness constructed by a dark space and white particles, the galaxy and the sounds could be manipulated in a poetic way to present in the scheme of the universe.
---
e-String is an homebuilt string instrument.
---
DSX Hack lets you program your Oberheim DSX sequencer without the need for a connected Oberheim synth, a previous limitation.
---
The TSAM is tool for the analysis, modeling, and mapping of the timbre of sound synthesizers. Synthesis algorithms often have a large number of adjustable parameters that determine the generated sound and its psychoacoustic features.
---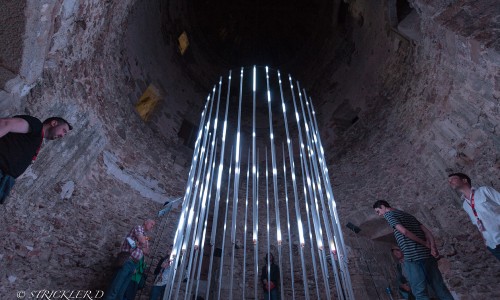 Circularium is the last work by Derrick Giscloux produced by Creative Art Company, Lyon (FR) Sound composition, sound spatialization, light control, interactivity made with Max 7 Circularium is a kinetic and interactive work of 4 meters high whose architecture is based on the circle and the concept of circular light.
---
The Shreditor is a software editor for the Shruthi-1 DIY hardware synthesizer. An awesome little hybrid mono synth developed by Mutable Instruments, which combines 8-bit oscillators with various analog filter boards.
---
117934~ is an experiment to extract new sounds from a classical upright piano via sound manipulation.
---