The TSAM is tool for the analysis, modeling, and mapping of the timbre of sound synthesizers. Synthesis algorithms often have a large number of adjustable parameters that determine the generated sound and its psychoacoustic features.
---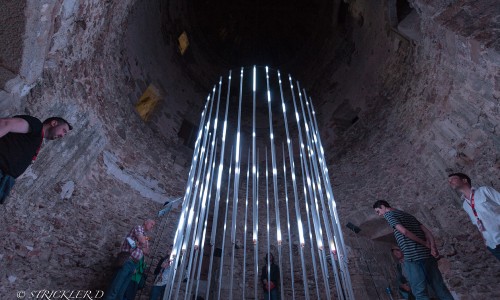 Circularium is the last work by Derrick Giscloux produced by Creative Art Company, Lyon (FR) Sound composition, sound spatialization, light control, interactivity made with Max 7 Circularium is a kinetic and interactive work of 4 meters high whose architecture is based on the circle and the concept of circular light.
---
The Shreditor is a software editor for the Shruthi-1 DIY hardware synthesizer. An awesome little hybrid mono synth developed by Mutable Instruments, which combines 8-bit oscillators with various analog filter boards.
---
117934~ is an experiment to extract new sounds from a classical upright piano via sound manipulation.
---
Instruments from the Augmented Gamelan ensemble presented as an interactive installation, using rule-based part generation, synthesis, and light control in Max.
---
Δ∞ [Infinite Delta] is an interactive kinetic installation/performance.
---
Film has became a common art form, and watching movies is already a kind of recreational activity what is very familiar to people.
---
This piece, a collaboration between Dr. Liza Seigido & Dr. Lawrence Moore, is built on the Moog Werkstat and a simple interactive video overlay constructed in Max!
---
DP.HouseHat is a versatile, dynamic and easy-to-use hi-hat synth, fully developed with Max for Live.
---
Sound Cage is a mechatronic percussion instrument.
---
RIB CAGE is an electro-acoustic instrument that incorporates elements of robotics.
---
The Melotronica is a modified melodica with sensors mounted on and inside the body of the instrument.
---
Moebius Lab is a multimorphic sound processor for iPad which contains a synth, a varispeed stereo sample player, 9 time domain effects, 6 spectral effects, 7 slots for external audio application, and nearly 200 LFOs that can modulate each parameter. You can move the effects along two chains, and get endless combinations of sounds.
---
Bringing backing tracking into the 21st century
---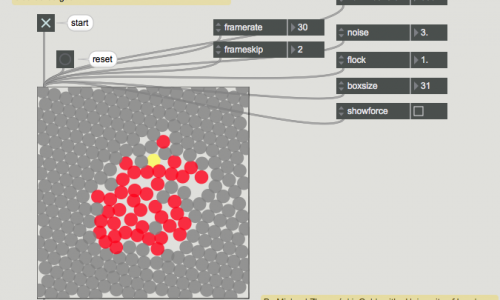 A two-dimensional model of moshers, similar to a disordered gas. Based on research by Jesse Silverberg and Matthew Bierbaum.
---
"Agnus Dei" is a movement from Missa della Grande Transizione--a twenty-two minute electro-acoustic nuptial Mass for live processed voice, and video overlay.
---
V4W.ENKO - CREATING sound and visual compositions in real-time with max/msp/jitter
---
This is a project I worked on with one of my faculty using netted structures and slow, subtle light shifts informed by weather data from the openweathermap.org/api and DMX control using VST and a DMXIS controller.
---
"Credo" is a movement from Missa della Grande Transizione--a twenty-two minute electro-acoustic nuptial Mass for live processed voice, and video overlay.
---
The project was to produce a promotional music video that blended a variety of different arts disciplines to create an interesting and visually stimulating piece with elements of dance, videography, custom effects coding and traditional paintings to accompany the music.
---