Discover a new landscape of sonic possibilities
With MC, objects and patch cords contain multiple audio channels. MC will transform how you imagine sound design, effects processing, and mixing. It might be the closest thing to a mind-expanding drug Max has ever had.
MC builds on how you already work with Max.
Simply type mc. before the name of any MSP object
Connect MC objects with multi-channel patch cords
Mix to any number of audio outputs
With MC, patches with 100 channels of audio look as simple as those with a single channel. The ability to manipulate so many audio channels and operations with so few objects will open up a previously hidden world of ideas.
Explore controlling complex soundscapes with MC
With MC, you can easily apply controls across a space of audio channels.
Everything you love about Max... multiplied
Edit multiple Gen instances simultaneously
Multi-channel signal probe with selectable visualization modes
Build polyphonic synths by assigning MIDI and MPE to individual channel streams
Layer evolving sounds with multiple automation curves
Experience noticeably faster performance
For Max 8, we profiled real-world, messy patches to discover what we could optimize. You'll notice the difference the moment you launch the application.
Max 8 launches between 2x (Mac) and 20x faster (Windows)
Large patches will load up to 4x faster
Complex UI operations are significantly more responsive
In addition to these overall improvements, we've significantly enhanced specific real-time use cases including the coll object (up to 60x faster), Jitter texture to matrix copying, jit.world matrix output, and an updated physics engine.
Control your patch with hardware — no patching required
Max 8 includes a Mappings feature inspired by DAWs such as Ableton Live.
Assign physical controls to your patch in just three steps:
Once you've mapped your controller, you can immediately starting playing as you patch.
With Mappings in Max, use a familiar workflow to set up hardware controls for more than just volume or filter cutoff. Trigger complex events, transform visuals, or adjust probabilities — all without adding any objects to your existing patches.
Build your own visuals faster than ever
Vizzie is our collection of over 80 high-level modules for interactive video. It's already a perfect launchpad for learning Jitter, but now it's ready for serious use.
Vizzie is now powered by OpenGL for dramatic improvements in performance and flexibility.
Expand beyond 2D by mixing Vizzie modules with OpenGL Jitter features.
Join forces with NodeJS
Use NodeJS to build custom servers or run small applications directly from your Max patch. With support for the vast NPM library, Node for Max connects your patches to thousands of possibilities.
Launch Node applications from within your Max patch, then control and interact with them.
Refinements that support your creative flow
Max 8 offers a more fluid and optimized patching experience. You'll notice numerous thoughtful refinements in addition to increased responsiveness. A few highlights:
Move objects into and out of patch cords in one step
Manage objects in groups
Filter and timestamp events with a redesigned Max console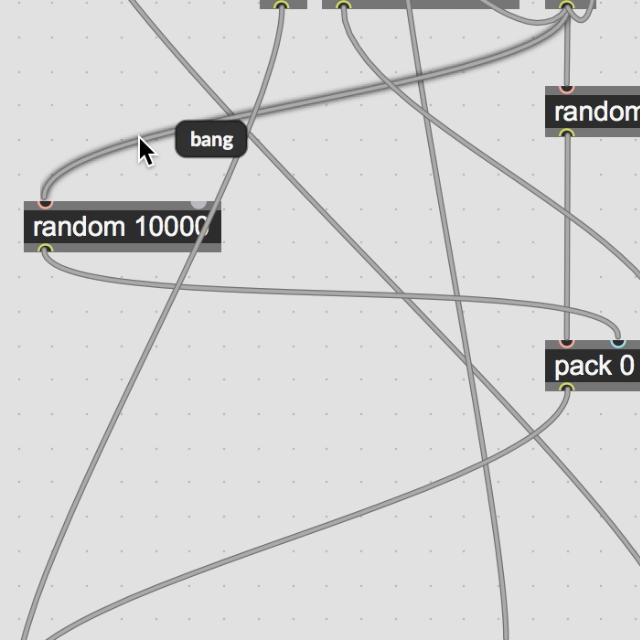 Gain immediate insight on your patch with event probing
Choose a color theme to customize the Max interface
Use Operate While Unlocked to move seamlessly between editing and playing
Uncover Max's secrets with the Search Sidebar
Using Max doesn't need to be about knowing or remembering every detail.
Start typing into the new Search Sidebar to immediately access the thousands of Max examples and tutorials that ship with Max, along with results from web forums and in-depth articles.
You might be surprised what you discover.
37 more features including VST3 and Gen for events
Workflow Improvements
1
Javascript, coll, and other text-based objects can open files in an external text editor
2
The Max console toolbar icon shows when new messages or errors have arrived
3
Post messages to the Max console from any patch cord in one step with new Print Watchpoints.
4
Max 8 includes a completely new UI for editing object colors including algorithmic color tweaking, palette saving and loading, and much more.
5
Use the mouse or trackpad to zoom and scroll around in large patchers
6
The patcher style system features numerous refinements including the ability to delete styles
7
There are new options for pasting objects including Paste and Match Style
8
The audio signal probe includes new history and scope modes
9
Updated interfaces for Reference, Package Manager, File Browser, and Authorization Window features
10
The feature that transforms changed attributes into arguments has been improved, particularly for Jitter objects
New Objects
11
The new chooser UI object displays a scrolling list, useful for file browsing interfaces and more
12
The new multirange object is a graphical editor for functions that contain ranges of values
13
The new console object outputs and filters the contents of the Max console inside your patch
14
New MIDI objects for 14-bit continuous controller, registered and non-registered parameter messages
15
Gen now has an event domain version called gen with the same interactive code generation and DSP features as its older sibling gen~
16
New frame~ and framesnap~ objects simplify working with spectral data
Compatibility Improvements
17
Max scans your audio plug-ins, simplifying the use of "shell" plug-ins (such as from Waves and Expert Sleepers). It also will also detect plug-ins with compatibility issues and disable them.
18
Max 8 is compatible with modern Mac OS full screen windowing features including tabbed windows
19
Max 8 on Windows includes support for multitouch and HiDPI monitors
20
Improved support for multi-channel audio file formats
21
Duplicate file name warnings list the locations of all duplicate files, not just the one Max will be using.
Jitter Improvements
22
Improvements to the jit.gl.pix WebGL export process
23
OpenGL supports drawing to multiple jit.gl.node contexts, simplifying render variations from a single geometry source.
24
jit.gl.multiple can now draw jit.gl.node instances, allowing for complex geometry hierarchies to be multiplied
25
jit.gl.model now loads FBX, glTF and OpenGEX files
26
Improvements to the way Jitter GL objects automatically find and join a render context without specifying a rendering context name
27
jit.gl.node and jit.world can output a description of the entire 3D scene as a dictionary
28
jit.gl.slab and jit.gl.shader without arguments will open a default shader file when double clicked as a starting point for developing new shaders
Major Object Enhancements
29
The vst~ object now supports VST3 plug-ins
30
The line object works with multi-segment ramps and is compatible with the function object
31
The dial object includes four new modes: Live, Classic, Needle and Pan and the live.dial object has a new large mode
32
The jit.cellblock object can monitor audio signals
33
The poly~ object can host a different patcher in each of its voices and includes a bypass mode
34
poly~ automatically adds an outlet identifying the voice that sent the last event
35
Gen includes an @expr mode for high-performance expression evaluation in a single object box
36
The message box allows changing the value of its arguments without triggering output
37
The gestalt object that reports system environment information has been substantially modernized and includes a dictionary output mode