On The Road: MOXsonic 2020
---
When I drove down to Warrensburg, Missouri to attend the third
MOXSonic Experimental Music Festival
held at the University of Central Missouri, I wasn't thinking that it would be the last chance I'd have for a while to enjoy the particular cocktail of experiences that such gatherings involve — magnificent concerts of experimental music, memorable conversations punctuated with laughter and moments of insight, and great food and libations in places that were as much wonderful local discoveries as they were places to get a decent meal and a pint.
As any of you who might remember my
On The Road report from last year's festival
might suggest, you could imagine why I submitted a proposal for a Nightlife performance and waited on pins and needles to see if I'd gotten accepted - I really wanted to go back. It worked out, and the memory of my 2020 festival experience will cheer and sustain me through the days and weeks of non-contact to come, as any good memory/experience does.
As I've said before, this festival reminds me of nothing so much as a differently scaled version of the now-legendary Minneapolis-based
Spark Festival
or the
Electroacoustic Barn Dance
— a gathering that hits all the right points: the right crowd, the right vibe, the right size, amazing performers, a generous audience, great sound/great venues.
One of the first interesting features of the three-day festival is the manner of its assembly. From the initial announcement on, it's clear that this is not the standard peer committee-juried festival to which you may be accustomed. Instead, it's curated by the trio of MOXsonic's festival organizers.
I think that this is one of the reasons for the festival's success. While it's clear that festival curators Elizabeth Stimpert, Jeff Kaiser, and Eric Honor are convivial colleagues, their individual fields of endeavor create a Venn diagram with three large and varied outside lobes [which include performance and ensemble work, improvisation, and more traditional compositions], all whose overlap embraces enabling technologies of one sort of another as a matter of course. Combine that variation with an explicit invitation in the annual call for papers and performances to "Surprise Us!" and you ought to start to get a good idea of what's going on.
Each of the concert stages was a collection of new ecosystems, spread about the state fed by tiny cable tributaries which brought the life-giving current to each performative island. In retrospective, it's hard not to see or to remember them and not think about social distancing and the N-foot contact rule.
The start of every concert was a gear guessing-game with a few interesting and not easily recognizeable object thrown in for speculative diversion (That looks like a full drum kit, and those are game controllers, but what's that cigar-box with the springs coming out of it for?). Each of the wonderfully varied concerts was a traversal of stage space as the performers and ensembles walked on stage to take place and to take their turn. As with last year, I was astounded at both the range and quality of work - onstage video games, mysterious telematic visual/audioscapes, repurposed videogame controllers and CD players, rare Indonesian wind instruments, work built around phone messages from loved ones or optimistic narratives from the era of space exploration, percussion performances that ranged from tabletop explorations to divine Proggy whomp, with the sound of voices and instruments in myriad combinations threaded through it all.
What we saw and heard in the hall did have something in common in addition to an attentive audience - some truly magnificent Front Of House mixing by Travis Garrison (any of you who've attended the recent NYU ICMC conference will know his FOH work from the hall there) on the spectacular Meyer sound rig in the hall. Despite the kind offer of free earplugs and warning from various performers of the "This is going to be loud…." variety, my memory of each concert was an anthology of experience.
Let me start this next observation by saying that I completely understand the reason that some gatherings in our field are full to bursting with paper sessions and N or more long concerts per day - they're the chance we have to present peer-approved scholarly works in public in ways that our home institutions and colleagues will see and hear about. Even with an understanding of that, it's sometimes the case that you find yourself wondering whether that piece you heard in the fourth concert on Tuesday might not have struck you much more strongly if you'd heard it under different circumstances. Similarly, days full of paper presentations or huge rooms full of posters leave you with the task of trying to take note of what you might want to read or think about later, when the person you'd most benefit from talking with is long gone.
MOXsonic opted instead for a smaller number of presentations that seemed geared toward generating conversation - discussions about starting student ensembles that addressed real-world logistics as much as repertoire, hands-on tussling with software-based feature extraction, discussions of sonification seen through the eyes of non-composers, and a great presentation on Pauline Oliveros' tape-based delay that ranged across several different implementations instead of focusing on a specific project.
A similar sense of scale reigned with the installations, and one of the finest "listening room" experiences I have ever had at a festival.
Another novel new feature at MOXsonic this year was something I'd be very interesting to see continue - short 5-minute videos of attendees' work, followed by 5 minutes for questions - and the videos remained around for viewing/re-viewing later on. Great variation on the traditional Poster Session.
Nightlife in Warrensburg (inna MOXsonic Stylee)
The Nightlife shows were curated with similar attention to detail and sequence as the daytime/evening concerts. The performances were consistently interesting and each one came in a 20-minute range that was gave the performers room to stretch out and yet left you wanting more when they worked well (the time limit was followed rather faithfully by all of the performers. My duet laptop set with Tim Place on trombone/laptop came in at 19.51, by my timer!).
This year's Nightlife series added some live coding, which was a great idea, and a nice break from some of the more rigidly formalist versions of those outings I've attended in the past. Let's hope we have some more of this next time out!
One of the reasons for my return was Nightlife in general, and - in particular - to have the chance to see The Choir Boys (Jeff Kaiser and my Cycling '74 colleague Andrew Pask) together again and conjuring some fierce beauty. The Choir Boys are to be the featured artists at next year's MOXsonic, and are rumored to be joined next time out by... yes, a choir.
They didn't disappoint, and made straight the way for Eric, Elliot, and Kristopher, who were to follow: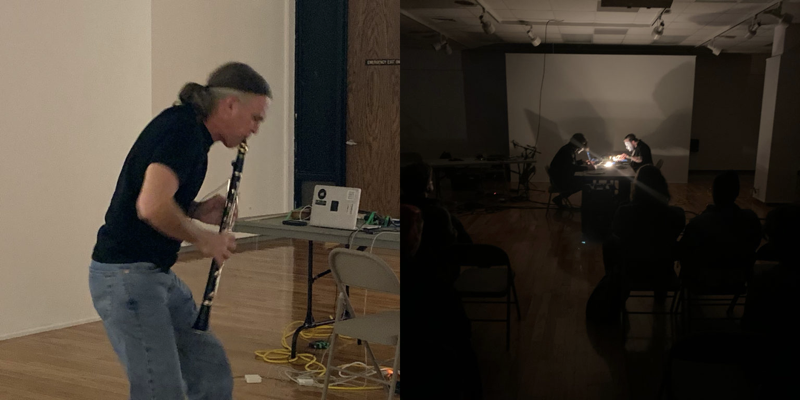 The relatively low number of the Nightlife events and the performance scaling also meant that we had time to retire to Old Barney's bar for some further singing and sharing at popular prices (to the considerable amusement of our New York-based colleagues) to round out the day.
What's New? The Cave!
I'd heard about "the cave" last year. One of the music department's staff members owns it (yes, they own an actual cave) a projectile's flight away from UCM across from a city park that memorializes
Blind Boone
. Early Saturday, following the now-traditional Saturday morning coffee pour-over/performance event hosted by the Kansas City-based KCEMA, the caffeinated crowd retired to the fabled cave entrance for a brief talk from its owner about the cave's rich history (storage for the first brewery in town, ice house, speakeasy, major hangout spot for local miscreants of all ages, and so on). We were ushered into the spacious cool space for a visit and a brief bit of vocal improvisation on the part of the visitors that turned out to be arrestingly lovely.
No stalagmites (but some lovely micaceous schist on the ceiling), but several seconds of natural resonance.
Pro Tip: Our festival hosts are going to be taking proposals for what performances/installations might be hosted at the cave next year - I've got dibs on arranging a performance of
paragraph 7 of Cornelius Cardew's "The Great Learning,"
by the way. Instead of a curiosity, it was a centering experience for the rest of the day.
All this said, there was a whisper of what was to come - several performers who were not able to attend owing to their country being locked down, and an American attendee who had similar problems coming in from Florida. I'm sorry I didn't have the chance to meet and to listen to
them
, as well. Maybe next time!
And now that it is passed and we're all pretty much hunkering down, let's look ahead. I think you'll want to go to this next year. Srsly.
---