Follow this tutorial to create a crowd-sourced multimedia patch or a data-driven interactive work using the maxurl object.
---
Jan-Bas Bollen is a composer, bass player, programmer and educator.
What got you started?
It is hard for me to trace the beginnings of my fascination with music, since both my parents were professional musicians.
---
Following are the steps for the export of ISF source files with jit.gl.pix.
Download the example patch
Requirements Max 6.1.7 or later Gen and ISF Background on ISF: ISF and Test App. ISF export enables gen patchers to be exported for use in VDMX.
---
In this unique interview the WaveDNA team, the developers of Liquid Rhythm reveal how they have embraced Max in all the stages of their software development.
---
Tutorial developed and written by phidgets. This project tutorial will introduce you to how Max works with Phidgets Interfaces.
---
Oli Larkin develops software for music, including his own commercial plug-ins, and audiovisual art projects.
---
Amanda Ghassaei is a software engineer and an educator with a background in physics, chemistry, math.
---
A short interview with musician Keith Fullerton Whitman about getting started, technology, inspiration and more.
---
Learn about the history of Lucid Possession and the technological solutions used in the show, and how the entire complex system works.
---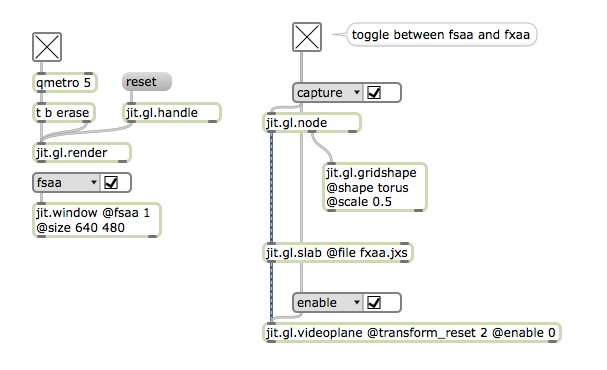 Rendering an OpenGL scene to a texture (RTT) offers many advantages to refine the look of your output, however it comes at the cost of losing hardware anti-aliasing (eg @fsaa 1 has no effect on jit.window output). Fortunately, there is an easy solution.
---